Grace Quantock is healing goddess. Grace first joined us in August as part of our shift series at Chronic Wellness tools.
In addition to writing and Speaking Grace works with private clients helping them to break free of what she compassionately calls the "lifestyle of illness."
It is my joy to have Grace share with us today about Healing Boxes. 
In gratitude,
xo
Lindsay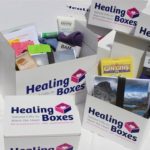 It began when a dear friend was in a car accident, and recovering in the hospital.
Living with chronic illness, I was bed bound and although I couldn't visit, I wanted to do something. I felt helpless in that moment, and it was awful. Too far away to visit, I felt there was little I could do.
Until I realised I could send my support. In a healing, heartwarming box of cheer.
It sounded so simple, so obvious. But as I began to search for the right gift, I was utterly disheartened by what little was appropriate and available. A card and flowers? Not enough. Fruit? She had probably been given more edible arrangements than she could eat. And knowing her particular challenges and allergies, a box of chocolates was out of the question too.
Living with chronic illnesses myself, I knew what was needed. So I searched and packaged up a variety of lovingly chosen items my dear friend would enjoy and be able to use. The very first Healing Box was born. 
Healing Boxes became more than a business, it became a mission: to spread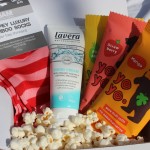 comfort, joy, compassion and love, to every person in need. To this end, we assembled a board of
fantastic people, passionate about helping others and formally made Healing Boxes a Community Interest Company (CIC). A CIC is UK-based type of company specifically designed to use their profits and assets for the public good and the benefit of the community. Quite simply, it's a business and charity all rolled into one neat little package… or in our case, a box.
The rest, as they say, is history. I am thrilled to know we are touching – and brightening – lives, everyday.
But let me introduce myself, I Grace Quantock and I'm an international wellness expert, coach, author, and motivational speaker. I founded Healing Boxes CIC and The Phoenix Fire Academy.
I'm honoured to be a Future Young Leader of Wales Award recipient and featured in The Hay Festival, Positive News, Gala Darling and The Times of London.
Currently living – and thriving – with often debilitating illness, I know, firsthand, the emotional and physical roller-coaster that accompanies diagnosis and life struggle. I live in Wales, UK, and love reading, gardening and early mornings. I firmly believe that life is meant to be celebrated, and have made it my mission to help others do just that …joyfully and on their own terms.
When someone you love is hurting:
– You want to do something for them but don't know what to do
– You are scared and frustrated
– You feel impotent and out of your depth
– You want to help – but how?
That's where Healing Boxes come in. Healing Boxes are designed by people with illness, so they contain all the things you actually need when ill, but would never know about, without having been through it yourself.
It's an end to 'oh not another bunch of flowers' or 'oh no, another pair of slippers', these are hip, practical gifts that actually make a difference.
I'd love to see Healing Boxes in hospital and shops worldwide, because gifts have the potential to change lives – both for the giver, the receiver, and the artisans whose items we stock – let's not settle for anything less.
I believe in:
The power of reaching out
Giving gifts that are heart-warming and genuinely useful
Actively supporting people during difficult times
Spreading joy
Ethically produced goods
Thoughtfulness as a healing tool
Supporting our community
My mission is to give gifts that make a difference, to make difficult days easier and to warm hearts of those who are hurting.
Healing Boxes change lives:
"Your box has been the only thing that has made me smile for ages, love you to bits because people like you make the world a special place. I use it every day and it helps lend me the strength to face my day"
– Nicola Berry, Artist and Art Therapist. Founder of Works of Heart, art therapy charity. Living with multiple health conditions including a broken neck and nerve damage.
"Receiving a Healing Box from a total stranger completely lightened up my (not-so-light) day.  It's amazing how such a simple heartfelt gift made me feel so loved and seen, especially in the wake of my mother's passing.  Really love the intention behind these little boxes of love."
– Flora Bowley, internationally celebrated painter, workshop facilitator, top-selling author, visionary and inspirationalist.
"I loved my Healing Box! It brightened my day to have a self-care package delivered straight to my door, and the delight of it all lasted days…
Sipping my tea… carrying my palm stone with me everywhere. The notecards are beautiful. I can't wait to treat myself again!"
– Chase Nadine, UK.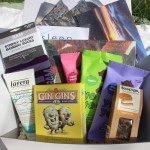 We create boxes full of great stuff for the people you care about. Gifts that say "I'm thinking of you", "Hang in there", or simply "You are loved". For a loved one one – or yourself! – Healing Boxes are the perfect pick-me-up: thoughtful, useful, easy to customise and ship
So if you want a gift for a loved one, want to support someone struggling with pain or illness then go over to and www.healing-boxes.com and get them a box of healing goodies!
Wishing you good days & good things,
Grace Quantock