Carla Golden
There are few as lit up and passionate about wellness and conscious living (and eating!) than Carla Golden.
Carla is the creator of Fruit til Five – a totally unique approach to fueling the body that focuses on a clean relationship to food as well as the planet – and happens to be a powerful catalyst of health and healing in the process.
Living her life on path and on purpose you will not find a wellness advocate more committed to "walking her talk." I had so much fun getting to know Carla better in this interview and hope you check out her free Monthly challenge and give "Fruit til Five" a chance to work its magic in your life.
In gratitude,
xo
Lindsay
Carla and Lindsay are talking about Fueling the Body
Tell us a little about yourself
I am 44 years old. Live in South Carolina on Hilton Head Island. I'm a wife, mom to Bella (almost 13), 2 cats and 1 dog. I am a massage therapist and spiritual nutritionist. My dream is to open a new generation skating rink with the best of old school.
Tell us about your path to creating your business and your vision
My daughter was born in 2001. In 2005 when she started school full-time, I enrolled in massage school and opened my private practice in June 2006. Clients asked me for wellness advice and I would lean to nutritional guidance. In 2008 I took my interest in nutrition formal and enrolled in The University of Natural Health. In 2013 I received  my Bachelors Degree in Holistic Health and Healing and am currently pursuing my Masters Degree then my PhD.
In 2012 I took my little hobby nutrition blog and, through Marie Forleo's B-School, made it officially a business. I blog, offer online classes, see clients one on one, give massages, and share my knowledge with those seeking to heal themselves.
Tell us a little about yourself and your philosophy on wellness:
I believe we can all be well no matter our circumstances. It's more a mindset and spiritual disposition than external or body circumstances.
What was the catalyst in your life to fuel your commitment to wellness?
I gave birth to my daughter, nursed her, and began feeding her and suddenly cared a whole lot about what I was putting in her body. Eventually it dawned on me that I deserved and needed the same level of care.
How do you stay healthy, resilient and vibrant?
A daily commitment to optimal food choices, exercise, abundant sleep, and joyful work. Simple living.
If there was only one thing a person could find the energy and resources to make a priority what would it be?
High quality food.
What is your favorite inspirational quote for wellness / awesomeness / thrival?
Only boring people get bored.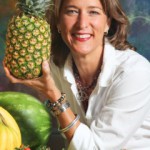 Carla Golden, a massage therapist and spiritual nutritionist, teaches those who are healing how to use food as a platform for spiritual growth. Those who are healing from physical or emotional trauma can use Carla's unique high-fruit plan to bring their body and soul into greater vibration, health, happiness, and peace. The Healers Diet™ and Fruit Til Five™ are her signature programs.

http://www.CarlaGoldenWellness.com