You've been booked for that speaking gig for months and super excited about delivering your message and making a difference. So many things have come together to make this happen.  It's the night before your early morning flight; the kids are organized, you are finishing packing your luggage and all of the sudden you realize…your throat feels itchy.
Uh-oh. Oh no!!
Oh no, we aren't catching a cold, are we?
What to do now to make sure you can speak tomorrow?
Here are three key tips to save your voice and be able to speak well whether it is delivering that speech, showing up at the conference and participating in the breakout sessions or sharing your stories.
Today more than ever, our voices need to be heard, so when the opportunity arises,
we need to know how to protect our vocal cords to be able to deliver our messages at the crucial time.
Women are being called upon to speak up more often in groups, in person, and on the stage. Videos both live and recorded are the norm. Whether live or on video, the power our voice and our stories carry is staggeringly important. We are creating a new world through the vibration of our messages.
In my long career on TV Shopping Channel around the world on QVC,  I traveled over 100 thousand miles per year to different climates, locations and time zones. I had to study TV presentation, voice control, breathing, and projection. I went to TV classes and also attended QVC University. All my shows were live, and when they book you,  you cannot miss a show.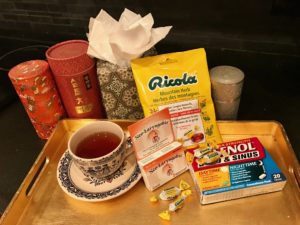 Here are my three must haves to help you keep your voice when you need it most ~
A Cold & Sinus Medication
I use Advil Cold & Sinus ( Tylenol's Cold & Sinus will do as well )  as this medication will dry up your sinuses and prevent post nasal drip. I'd love to tell you I have a natural remedy for this, but I don't have one that works in a jiffy. You need this when the chips are down.
Why? Post nasal drip causes irritation in your throat, making it itchy and then you cough. More mucus goes into your chest, and then you cough more. Throat starts to get sore and raspy, and voila! You are on the way to losing your voice. No Bueno.
I learned this from seasoned air flight attendants ~ It not only saves your voice, but it also saves your ears from painful blocking if you are on that plane a little too often. My travels had me in the air, on a plane approximately 40 hours per month. I was away from home two weeks of each month. Try to get the packages that give you both night and day tablets, because the daytime/ non-drowsy ones will keep you up when you might need to sleep.
Soothe Your Sore Throat & Fight Coughs Naturally with Ricola Throat Lozenges.
I love the cheerful yellow Ricola lozenge package  that promises to " Fight Coughs Naturally & Soothe Sore Throats ." Choose the one with the OVAL lozenge, as the same yellow color package is also available in larger rectangular candies and these are simply too big for a sore, scratchy throat. Keep the wrapper as you may need to pop the lozenge back out to go on stage or start your speech and the lozenge will only be started. It's almost impossible to time it exactly, lol.
If you have a short rest in between, then you can use it to sooth your throat again. These are Swiss made with Mountain Herbs like peppermint, elder, wild thyme, hyssop, lemon balm mallow, linden, and sage.  There is NO SUGAR added, so they are ok for people with diabetes, and the dentists don't seem to mind them.
My friends who also travel as international speakers keep these tucked in every coat pocket, purse, and briefcase. I still love them (they are yummy !), and they helped save my voice by helping me not to cough and damage my voice. They helped me to not cough on stage either.
In my illness, I suffered from pneumonia, pleurisy and pulmonary edema (water on the lungs, yup, they had to drain each of them) at the tail end of my near death experience. I truly had to regain the power in my lungs, my breath, and my voice. I had to work with a breathing tube with a red ball inside it to exercise my lungs. The Ricola lozenges helped me along the way.
If You have almost lost your Voice: Use Rougier Rectal Suppositories. 
Yes, I know, I know, it sounds super weird, but it works. You don't have to tell anyone that you used it to save your voice. I won't tell, I promise. There aren't that many companies that make these suppositories. I use the one made by Rougier here in Quebec…we think we are quite French here and these types of suppositories are much more common in Europe.
My opera-trained voice coach was the one to tell me about these suppositories. If I had laryngitis, I'd take it at night time, go to bed voiceless and wake up in the morning with a voice! I buy them two at a time and keep one in my travel kit at all times.
If you do a good job of protecting your voice with the Cold & Sinus medications, you might not have to resort to using the suppositories. If you already have a raspy, wilting voice or laryngitis, and your talk is the next day? Use them. You'll thank me.
You can purchase them online here. (not an affiliate link)
http://rougier.ca/newEnglish/display_products.asp?sectionid=4&pid=212
A few other tips to help ~
Drink lots of water (lemon water is best to keep you alkaline = healthy).

Rest up (now I sound like your momma, but we do seem to forget the body heals when we sleep deeply). 

Try to reduce coffee and alcohol (boo, but true!) and avoid anything that you are even slightly allergic to (an allergic reaction is an inflammatory reaction, and that could put your voice at risk)
Hopefully, these tips will help keep your vocal cords healthy happy ~
Your voice, your message is so needed, let me hear you rawr!!
By Cydney Mar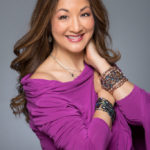 Cydney Mar is on a mission to help you live Everyday Fabulous in a healthy natural way with easy daily tidbits that seamlessly fit into your already packed schedule. She does this while playing with Chuk her baby Budgie, walking Jack her beloved Schnauzer & Trash-ercising and hanging out on Facebook. Download her free Beauty On The Go cheat sheet to Get Gorgeous today! It's packed with ideas culled from her multi-passionate careers in competitive figure skating, being an International Fashion designer on QVC worldwide and a Wellness Enthusiast.
www.cydneymarwellness.com