I couldn't be more grateful that Kevin and I crossed paths. This interview was a refreshing journey away from the tactical aspects of chronic illness and recovery and into the subtle realms of mindset, context and story. These are three things that anyone can access, from anywhere, on any budget – but that have the powerful ability to change the course of our healing journey.
Kevin has used his own experience navigating long undiagnosed Lyme disease (and all that goes with it) along with his deep exploration into the science of mind and story to create new pathways to healing.
Kevin's upcoming book "The Hero's Journey to Wellness" will take us deeper into the power of the Hero's Journey as a model for healing, but this interview is a delicious sneak peek.
I felt such power and calm in Kevin's virtual presence (and oh my the expanse of green and twinkle of dew and rain was so relished by this parched California girl) and hope you enjoy the interview as much as I did.
In our chat we cover…
~ Kevin's journey from National Geographic documentarian and world traveler through chronic illness and back out again
~ The opportunity of accessing our "story" to see our illness or wellness journey in new ways and tap into the potential and power of our own inner resources for healing
~ The high's and low's of the Hero's journey and how context is everything
We also touched briefly on one of my favorite healing tools…"sitting in the not knowing" and discuss how holding the tension of not having all the answers (as in wanting to know "How did it begin?" and "How will it all work out?") and instead trusting in the unfolding can be one of the most powerful tools in your healing toolkit.
With love and gratitude,
xo
Lindsay
Join Lindsay and Kevin as they talk about The Hero's Journey to Recovering from Lyme Disease
Tell us a little about yourself
I work as a Mind-Body Wellness Consultant, assisting people who are suffering from Lyme disease and other chronic illness in two ways: the first is to help them successfully navigate the complexities of their unique path back to wellness; the second is to help them relate to their healing process as a fantastic opportunity for creating changes that can benefit their life, for the rest of their life.
Various expressions of my being include Reiki Master, transpersonal hypnotherapist, and a former internationally-recognized documentary filmmaker whose work for National Geographic Television and others garnered over 40 national and international film festival awards.
After having my film career stopped in its tracks from a long- undiagnosed case of neurological Lyme disease, I embarked on a long and difficult journey to regain my health. However this journey led to many insights regarding the vital role that mental, emotional and spiritual factors can play in a successful healing process. Along the way I became a Reiki Master and a board-certified hypnotherapist, and in time developed a highly integrated mind-body-spirit healing protocol called The Hero's Journey of Healing.
I live in the Blue Ridge Mountains with my dear wife and animal companions near Marshall, North Carolina.
Tell us about your path to creating your business and your vision

There was a particular point in my own healing journey where I experienced a return of my intuition and my ability to perceive an overview of my life, and it is then that I started to view my progression from illness to wellness as a story, which soon led to the realization that this story was larger than me and held much in common with the archetypal Hero's Journey.
Other insights followed regarding the path of healing that I had been and was still on: how this path was like an interrelated collection of puzzle pieces comprised of physical, emotional and spiritual processes, and how attending to all of these processes held the key to healing from my condition of chronic illness and returning to a state of wellness (at least for me).
I was praying one night (to the animating intelligence of Existence which at times I call God), to feel the pulse of my life purpose again and to somehow be of help to others who are still in the depths of suffering from chronic Lyme disease. I prayed, and then I was still. And in this stillness the idea emerged, nearly fully formed, of the protocol that later I would name The Hero's Journey of Healing.
At first I envisioned this as a webinar series, and later I decided to put the focus on working with people one-on-one. Then the idea for a book emerged, which I am now writing. In the future I will likely create a training and certification program so that others can learn how to work with clients using this protocol.


Tell us a little about yourself and your philosophy on wellness:
I believe that "wellness" is a state of mind as much as of body. It is about not putting conditions on the willingness to bless one's life; it is about experiencing all aspects of one's life as sacred. Wellness becomes a way of life that compels one to be compassionately attentive to the needs of one's body mind and spirit without becoming overly self-obsessed, paranoid or narcissistic.
When we embrace our individual path of wellness, there is a natural and relaxed feeling of love and care present, as if we were caring for a garden, an animal companion, or a beloved member of our family. Within this care is a quality of tenderness but also of protectiveness and empowerment which compels us to regard our medical providers as equals rather than authority figures. Wellness means embracing and standing in our power for the sake of our life and the lives of those we can be of service to, regardless of how "healthy" our body actually is.


What was the catalyst in your life to fuel your commitment to wellness?
The catalyst for my commitment to wellness was the deep gratitude I felt to be well enough to feel the guidance and imperatives of my inner life. The darkest moments of my healing journey were the times I felt utterly disconnected from spirit and intuition and the desire to be of service to the Life force. When my connection returned, I vowed to care for my body mind and spirit with attentiveness and consistency so that the link with my inner life could be maintained as much as possible.


How do you stay healthy, resilient and vibrant?
By paying attention to the needs of body mind and spirit, moment by moment. By making sure I have 8 hours of sleep, afternoon naps when needed and possible, good food and water, loving relationships, taking my dear dog on long walks every day, being exposed to natural beauty, minimizing exposure to negative media, keeping in contact with what inspires me, and by working on bringing forth what I feel called do to be of service to Life.


If there was only one thing a person could find the energy and resources to make a priority what would it be?
In terms of wellness, the one thing to make a priority would be developing loving kindness towards one's being and body.


What is your favorite inspirational quote for wellness / awesomeness / thrival?

I don't honestly have a favorite quote..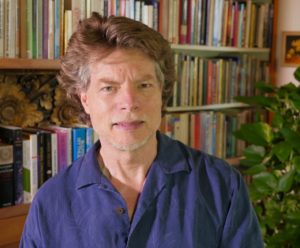 www.inneralliance.net
www.wiseoakproductions.com