After becoming critically ill and diagnoses with Pulmonary Hypertension in 2008, Colleen knew she had to take control of her health and was not going take the Doctor's grim diagnosis for her future. Instead, Colleen went back to her family roots of healthy eating and  eating intuitively – giving your body what it is really asking for, along with exercising.  For her that means a vegetarian  lifestyle while dealing with other various food allergies in their family such as wheat and diary. Colleen's passion is to help other families who are dealing with similar health obstacles and using her background in special education, Essential Oils and degree in integrative nutrition.  The journey can be hard, but Colleen has proven you can be well, even when you are sick, take care of yourselves, and reach your personal best.
Lindsay and Colleen talk about An Essential Path to Healing.
Tell us a little about yourself

I am a mom, an author, a health coach, an educator, a business owner, and a survivor of an in survivable illness – Pulmonary Hypertension (PH).
At the age of 28 I was diagnosed with PH – a rare and degenerative lung disease. I lost my health, my career, and my vision for and security in my future in one blow. Since that time, I have learned to regroup and implement a holistic lifestyle, eventually far surpassing all medical expectations. I went back to school to become a certified Integrative Nutrition Health Coach and now teach others to do the same – to thrive, not just survive, no matter the diagnosis.
What is your philosophy on healing or overcoming health challenges.

It doesn't matter what life throws at you – it matters how you react. In short, you can define a life you love. But it takes a lot of work and know-how. It's okay to take your time and have grace with yourself in the process.
How have you used adversity in your life to fuel your commitment to balance and wellness?
I really had no choice. My son was 15 months old when I was diagnosed. He became my reason for fighting. I began to really pay attention to patients who were defying the odds. I wanted to be like them, and it was worth putting in the effort to do so. I read a lot and I prayed a lot and I cried a lot. Over time, I developed a sort of system to become well (I believe you can be well even though you are sick). I know, mostly from experience, that if I don't keep my commitment to myself I suffer the consequences, so it is always worth the effort.

How do you stay healthy, resilient and vibrant?
I prescribe to a concept called "The Circle of Life", which originated from the Institute of Integrative Nutrition. Basically, this concept looks at all these different areas that feed our souls, and make up who we are as humans. You have to attend to each of these in some sense in order to stay healthy, resilient, and vibrant. We are so much more than our medications and our diagnosis. The food we eat is one part of that, but as mind/body/soul beings, there are many other areas as well.

What tips do you recommend for your clients dealing with / healing from illness?

I take my clients through a process. Frist, they have to become clear on their diagnosis story, how it set the stage for how they feel about their disease, and what path it set them on in fighting it. Once that's established, we look at ways to change or improve that path. Food is a cornerstone – I work with my clients to implement whole foods diets, but encourage them to find a way of eating that is right for them. I'll work with someone to become vegetarian if they want, but will just as readily help them implement a Paleo approach if that seems more appropriate. Once we've fostered a relationship of trust, we move into more personal areas, like spirituality and personal relationships.
My tips, therefor, center on healthy eating anyone can implement. I also help them discover ways they can enjoy life even if their diagnosis has impacted their ability to do things they love.
My biggest tip for clients is probably a message of balance – do what you need to do from a medical perspective. But never let that become your only form of self-care. It's worth it to reach outside the box and care for yourself from tip to toe.
If there was only one thing a person could find the energy and resources to make a priority what would it be?
Focus on your food first. It's the building blocks for the rest. Once you've got that in line, you'll feel more up to tackling the rest.
What is your favorite inspirational quote for healing?
"My mission in life is not merely to survive, but to thrive; and to do so with some passion, some compassion, some humor, and some style."  ~Maya Angelou
To break it down: We can thrive, not just survive with chronic illness. It takes passion and drive. You have to have some compassion for yourself, and it helps to have compassion for others in your same boat so you're not just fighting for yourself. Humor always helps – because we deal with some really absurd things as patients! And style… well, good shoes make me happy. So I always wear them to crappy doctor's appointments.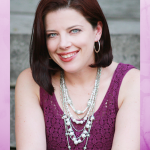 Colleen Brunetti, M.Ed.C.H.C. is an Integrative Nutrition Health Coach and bestselling author of the book, "Defining the New Normal: A Guide to Becoming More Than Your Diagnosis". She works with clients who want to define a life they love through good nutrition and balanced living – no matter what life throws their way.