Ever crossed paths with someone who's light and authenticity are so strong that you could spend endless hours just listening to them talk?
George Bryant is one such soul.
George is a force in the world of health and wellness – bringing outrageously delicious and healthy Paleo recipes to us all via his New York Times bestselling book, The Paleo Ktichen.  You don't have to be Paleo exclusive to appreciate this amazing tome to beuatiful, delicoius and accessible food.
And if you eat bacon, well then, and extra dose of goodness for you.  George has overcome his own challenges and makes no excuses – yet his love and compassion shine through.  I was so grateful to him for sharing his positive tack on life with us here – and look forward to following him on his new PodCast.
Enjoy…
Lindsay and George talk about a Paleo Kitchen.

Tell us a little about yourself
George Bryant is the creative genius behind the award winning Paleo Food blog Civilizedcavemancooking.com and New York Times Best-Selling Author of The Paleo Kitchen.  After spending 20-something years of his life in a constant battle with his weight, and then nearly losing both his legs while on deployment as a US Marine, George took matters into his own hands and began his own Paleo-journey.   After being in the Marines for 12 years, George has since been medically separated and has made it his life passion to create delicious recipes to share with the world, while inspiring and helping others on their health journeys.
What is your philosophy on healing or overcoming health challenges.
I believe it is all mindset based.  People are only limited by their beliefs and their mindset.  When they can start creating positive anchors and energy in the right direction, everything is possible.  I have personally overcome a 12 year battle with eating disorders, body image issues and lost 100 pounds.  The biggest key for me was learning how to love myself and being grateful for everything in life.  I celebrated all struggles, successes, etc.
How have you used adversity in your life to fuel your commitment to balance and wellness?
I have used adversity as a fueling mechanism to always prove that I am grounded and capable of everything I set my mind too.  Every situation in life is a learning lesson and I choose to use life to empower me to move forward and never be a victim.
How do you stay healthy, resilient and vibrant?
I eat lots of bacon, smile a ton, hug people all the time and always keep moving.  The key to fitness as is the key to success in any area of life is operating from a place of love and not insecurity while going about their daily lives.
What tips do you recommend for your clients dealing with / healing from illness?
The first step is to always shift your mental attitude.  Our results in life are directly correlated with how we view the world.  When we can put empowering interpretations on life no matter the situation, our life becomes full of amazing results.
If there was only one thing a person could find the energy and resources to make a priority what would it be?
Self care
What is your favorite inspirational quote for healing?

"we do not heal the past by dwelling there, we heal the past by living fully in the present" by the amazing Marianne Williamson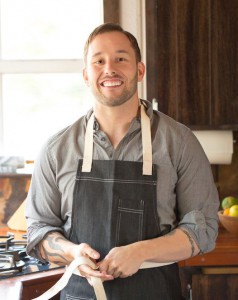 George Bryant is the New York Times Best-Selling author of The Paleo Kitchen and creative genius behind the wildly popular Paleo food blog "Civilized Caveman Cooking Creations." After spending the first 20-something years of his life in a constant battle with his weight, and then nearly losing both his legs while on deployment as a US Marine, George took matters into his own hands and began his own Paleo-journey. What started as a simple place to post recipes for friends, has since turned into an award-winning food blog. After being in the Marines for 12 years, George has since been medically separated and is enjoying working fulltime creating delicious Paleo recipes, while hoping to change as many lives for the better by making REAL food recipes simple and tasty.
http://civilizedcavemancooking.com
http://thepaleokitchen.com