Jamie Rautenberg – When Desperation leads you to Healing
(Making Friends with your fear: Chronic Illness, Chronic Pain, Lyme disease)
Jamie's lifelong journey with the cycles of illness and healing lead her to a place of having an overflowing toolkit of skills and resources to help people cope with illness, addiction and recovery.  Sidelined by her own degenerating health, she was ultimately diagnosed with Lyme disease and the real healing began.
Reduced to a place of total release and surrender, she was able to reclaim her health by shifting her focus away from the illness and the diagnosis (as well as the port in her chest) choosing instead to infuse herself with forgiveness, trust and healing.
Along the way, she assembled a healing dream team for support, and is a true Chronic Wellness success story on so many levels.  You will love her art, her words, her artistry at capturing the essence of chronic illness – and I couldn't be more proud to introduce you to her here and share her amazing light with you all. Enjoy.
Lindsay and Jamie talk about healing.
Tell us a little about yourself:
I'm a holistic life coach & LCSW specializing in working with chronic pain & chronic illness. I draw from my professional experiences working with trauma and addiction, but the heart of my business stems from my own experience of chronic pain & illness. For as long as I can remember, my life was a revolving door of waiting rooms and doctors offices until I was diagnosed with late stage Lyme & co-infections in March 2013. The diagnosis brought relief, but the reality of how I manifested such a toxic state of mind, body, & spirit needed more time to fully integrate into my being. Once I grieved all that I thought I was, I stepped into who I really am under this skin. Now I've learned how to trust my body & listen to my intuition when it comes to true healing. I've used the suffering to spark an inner revolution that's enabled me to create & transform my life through self-compassion and love. I hope to inspire others to empower themselves to do the same to begin their healing process.

What is your philosophy on healing or overcoming health challenges?
I believe that healing begins when we transform our goals. For me, the goal shifted from curing to living. Instead of waging a war on my body, I aimed to learn the way of co-existing & creating my life through the illness. This involves taking responsibility for everything we've created and learning how to redesign our experience of dis-ease. We must use our suffering for transformation. I want to live a life of wholeness, and that means expecting the full spectrum of emotion & experience, both positive and negative. Challenges provide an opportunity for us to check in with ourselves to see what's not working; and illness provides the opportunity to learn how we can fully care for ourselves.
How have you used adversity in your life to fuel your commitment to balance and wellness?
I look at each obstacle as an opportunity to expand my perspective in this reality. Without any of those experiences, I would not have the self-awareness I appreciate today.
How do you stay healthy, resilient and vibrant? Leading a non-toxic lifestyle is of absolute importance. That goes for everything from the food I eat to the mattress I sleep on. I'm also very careful with how I use my energy. I only put my energy into people, places, and things that feed my spirit. There must be an exchange of value. This has completely transformed the relationships in my life. The connections I've made with others have been a HUGE part of my recovery and a key to staying resilient & healthy.


What tips do you recommend for your clients dealing with / healing from illness? I believe that when we learn to listen to ourselves, that's the first step. Finding support from healers or peers who speak our language is also vital. We long to relate & connect as humans, finding our tribe can be just as potent as medicine.
If there was only one thing a person could find the energy and resources to make a priority what would it be?
Connection. With our bodies & others. Learning how to connect to our bodies through tools like meditation and breathing have been imperative in my healing. When we share our experiences with others who relate and support us, we remember that we're never alone –we remember our true selves.
What is your favorite inspirational quote for healing?
I love this quote so much that it's on my about me page on my website: "Ruin is the road to transformation."-Elizabeth Gilbert
http://thedailyinfusion.com/
https://twitter.com/JamieRautenberg
https://www.facebook.com/thedailyinfusion?ref=hl
http://instagram.com/thedailyinfusion
https://www.youtube.com/user/TheDailyInfusion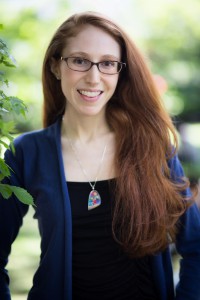 Jamie Rautenberg is a holistic life coach & Licensed Clinical Social Worker. After a lifetime of medical misdiagnoses, she discovered that she was living with late-stage neurological Lyme Disease in March 2013. While receiving intense daily IV infusions, Jamie reframed her healing experience by creating TheDailyInfusion.com, a wellness blog where people can learn how to reclaim their lives through chronic illness & pain. Her passion is to empower others wherever they may be along their path through virtual private coaching sessions.