After being diagnosed with CFS at the age of 12, Kayla was embarrassed and frustrated with the limitations of her  diagnoses.  When Doctors couldn't offer much help, Kayla looked to Yoga and Mindfulness courses geared toward those living with illnesses.  She found both gave her the tools she needed to live the life she wanted.  Through yoga, meditation, diet and treating herself right, Kayla has been able to resume a mostly "normal" life from traveling, running and enjoying  a social life.  Kayla's desire for Aroma Yoga is to show others what worked for her, and how to learn from and live well with their illness.  She runs online yoga courses, as well as teacher who want to become more accessible to the disabled community as well. She desires to help other live the life they want, and make peace with yourself and your illness and what you can do with your life!
Join Lindsay and Kayla as they talk about Peace Beyond Diagnosis.
Tell us a little about yourself
Hi! My name is Kayla and I am a yoga therapist and social entrepreneur. I have suffered from chronic health challenges for the last 14 years, and I have found yoga and meditation some of the most helpful tools in my recovery and health maintenance. I now teach yoga to others suffering from chronic illness so that I can pass on what has helped me!
What is your philosophy on healing or overcoming health challenges.
Accepting where your body and health is at in each moment. Working towards making incremental healthy changes, but still being comfortable with your health in each moment. That may mean not getting down on yourself if you are so low on energy one day you can't get out of bed. It also means fully enjoying each moment when you are feeling well.
How have you used adversity in your life to fuel your commitment to balance and wellness?
My chronic illness forced me to pay more attention to my body than most 'healthy' people that I know. It inspired me to design my life around helping others thrive, and I am now much more aware of my health and any potential issues that may come up.
How do you stay healthy, resilient and vibrant?
Yoga, meditation, whole foods, always making time for a good book and a good friend.
What tips do you recommend for your clients dealing with / healing from illness?
Find a 'healthcare army' to help you. It's awesome to take control of your own health, and a big part of that is finding the people who understand what you are struggling with and can help you. It may mean researching doctors, therapists, health coaches, yoga teachers, etc. who can help you find what will work for you.
If there was only one thing a person could find the energy and resources to make a priority what would it be?
Your favourite self-care ritual.
What is your favorite inspirational quote for healing?


"yoga teaches us to cure what cannot be endured, and endure what cannot be cured"- B.K.S Iyengar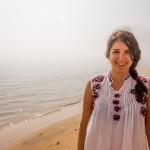 Kayla is a yoga therapist and the founder of Aroga Yoga. She runs online yoga courses to help people suffering with chronic illness. She works with people from all over the world to reconnect with their bodies and make healthy choices. 

www.arogayoga.com
www.arogayoga.com/online-course
www.facebook.com/arogayoga
www.twitter.com/arogayoga
www.instagram.com/arogayoga