Kyle McHargue
This is so much more than a chat about Essential Oils.  Talking with Kyle McHargue (that's Har-G 😉  is always a treat.  Kyle exudes a light and hope and optimism that is infectious. When I first heard his story of overcoming life-long depression with essential oils, and how that catalyzed an entire LIFE transformation that resulted in a new job, new home, (a loss of 70 lbs???!!!) a new state and entirely new way of living I was captivated. I'm so happy to be able to bring that story to you here….open yourself to the possibility of radical transformation and magic and miracles just might happen.  They sure did for Kyle – and he's sure they can for you too. To miracles….enjoy!  xo Lindsay
Lindsay and Kyle talk about taking daily steps towards a better, more fulfilling future

Claiming your BEST LIFE EVER via Essential Oils
Q. Tell us a little about yourself
I am currently living my dream. Within the last year, I literally flipped my world upside down. I knew there were several aspects of my life that weren't making me happy and I decided to work on those. I knew that wellness is something I needed to focus on. So that's exactly what I did; I focused.  Within one year I lost nearly 70 pounds, got off my anti-depressants, improved my mood and energy, sold our house and moved from bitter-cold NY to gorgeous southern CA, spent 3 months traveling the country, landed a dream job, and most importantly took back control of my life. This all started with the idea of taking one step, for me. This incredible journey can all be traced back to one initial action step; to no longer be dependent on anti-depressant medication. My wife, who is a holistic health coach, introduced me to Doterra's Wild Orange Essential oil.  This oil is fantastic for mood management and treating depression. For me, it allowed me to get my mind and emotions back. Within the first week I no longer had any reason for my medication. I realized soon after I was in control of every aspect of my life.  Only then did my journey towards a well balanced, truly fulfilling life truly begin.
Q. Tell us about your path to creating your business and your vision
I feel like everything that's happened in my journey up to this point has shaped me for the better. It's given me an enhanced sense of what I can offer to the people around me. My wife and I feel like part of our mission in life is to help families and individuals take back control of their health care. Working with Doterra has allowed us to expand our mission to a much wider audience. And the response from everyone we've worked with has been overwhelming! Our lives have become so much more fulfilled and rewarding knowing that we are helping people. Moreover, it feels so great to know we are working to help curb the epidemic in our country that is the health care system and health in general. Our vision is to have a healer in every home! This is our journey, our mission, and we want everyone reading to be a part of it!
Q. Tell us a little about yourself and your philosophy on wellness:
I like to think of myself as someone who is constantly learning, growing and trying to improve myself. I think it's so vital to be goal driven and to focus on what you want out of life. I'm trying to grow myself on numerous levels. Lindsay's shift wheel has made me realize there are several areas of my life I want to grow. I love this! I love knowing that I can continually evolve and change who I am. Wellness for me is all about that growth. I love using gardening as an analogy for wellness. Start with the highest quality soil and seeds feasible. As the seeds sprout and start to grow they will respond positively if you give them the love they need, and consequently, will wither if you neglect them. As your plant becomes healthy and well rooted in love it will eventually flower. This flower is merely a product of your commitment to growth and success. Soon enough your hard work pays off with a beautiful flower or perfectly ripe fruit or vegetable. The plant's response to your actions will never be random. It will always grow with love and will always wilt when any one aspect is ignored. The same can be said for our bodies, our minds, our relationships, careers, spirituality and every other facet that makes up our overall wellness.
Q. What was the catalyst in your life to fuel your commitment to wellness?
My commitment to a new healthier me all started when my wife said, "I know when you're taking your antidepressants and when you're not." This hurt so much. I really never wanted to be dependent on a medication to feel normal. I knew I wanted to change and am so thankful my wife introduced me to Doterra's Wild Orange. I was able to take control back of my emotions and my depression. This is also what made me realize that I can change so much more about my life. This ability to grow and change for the better is what fuels my commitment to wellness.
Q. How do you stay healthy, resilient and vibrant?
I find myself staying most healthy when I work on balancing physical activity with nutrition and self-care. Exercise is crucial. But not just an exercise routine, it's important to keep pushing yourself to new heights. Set goals and blow them out of the water. I love the saying, "I can do anything." When I'm running and find myself losing steam or wanting to stop I repeat this over and over. This mantra can be used in any aspect of your life too, not just with physical activity. I also try to eat as clean as possible (most of the time, I'll admit I am a sucker for homemade pizza!). Lastly, self-care is a critical step in maintaining a vibrant healthy life. I love essential oils for this. Having a kit of essential oils allows me the ability to treat myself naturally when life's challenges arise. When I feel myself getting anxious, depressed or having a hard time sleeping I turn to my oils. I love knowing that I can be a healer in my own home!
Q. If there was only one thing a person could find the energy and resources to make a priority what would it be?
What makes you most happy? Your priorities should reflect what you love. If you're putting energy into any facet of your life and it's not benefiting you and/or improving your quality than it's not worth it. Start to align yourself with what makes you smile!
Q. What is your favorite inspirational quote for wellness / awesomeness / thrival?
"Consciousness conceives, governs, constructs and becomes the activity of the body." –Deepak Chopra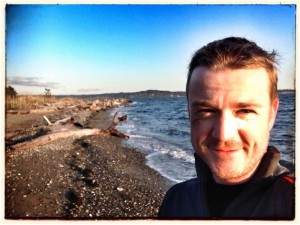 Kyle McHargue is currently working with Doterra Essential Oils to help people reinvent their health care. He is also a geologist and lives with his wife in Temecula, CA.
Omgnessentials.webs.com
ohmygoodnest.com