In 1996 Lane was living in Hollywood Hills, thought she was living the perfect life. But between depression and alcohol Lane had stopped showing up to work and her health was failing.   After a few years of sobriety her health worsened with no relief from specialists and doctors.   She self educated and turned to meditation and yoga, vitamins, oils and diet to start to heal herself. After years of healing she also defied doctors and birthed a healthy baby boy.
Lane's desire is to simply help people become better at who they are in the world and help them on their own healing journeys.
Join us as Lindsay and Lane Talk about Biohacking.
Tell us a little about yourself
I'm a Certified Bulletproof Coach, a bio-hacker at heart. For the past 20 plus years I have been monitoring and experimenting with my health, achieving greater wellness, and having a kid after the doctors told me I would never conceive!
I help people find a solution to the mysteries of their body. We are uniquely individual and part of my job is sharing what has helped me and many of my clients become more resilient, stress free and healthy!
What is your philosophy on healing or overcoming health challenges.
It's up to you become well. In today's world where we live in a society where we treat symptoms and not the cause or condition is mind blowing. It's important for people to learn about nutrition, movement and the power of their own mind. When it comes to overcoming challenges, I feel strongly that an individual has to be at a turning point in their life, where nothing else matters but to live a healthy vibrant life! But here is the deal, in order to accomplish health, there has to be a plan and movement, accountability to that plan so to speak. Without a plan, and taking action everyday to overcome your challenge, the challenge will win every time. Our minds are strong and the neural pathways of pain can go deep, therefore taking action everyday forms a new pathway which can be built — wellness can be created.
How have you used adversity in your life to fuel your commitment to balance and wellness?
When I couldn't get up my stairs and people had to cook for me I used the power of community and friendship. I learned to ask for help. Asking for help has been a great gift. Now, some years later I find myself asking for help more easily, even with the small things, like unloading the dishwasher! When I am in community and asking for help my life seems more balanced, and there is a sense of connection that is deeply fulfilling.
How do you stay healthy, resilient and vibrant?
I have a fairly simple green lifestyle, I eat a lot of organic green veggies, no dairy, no caffeine, grass-fed beef. Everyday I try to eat about 35 grams of fiber. I move. I walk everyday, I pray everyday, I meditate everyday I call those three things my non negotiables! I also use an infra red sauna once a week at a minimum.
What tips do you recommend for your clients dealing with / healing from illness?
Find others who have the same situation, or illness. Community and finding a tribe is key.
If there was only one thing a person could find the energy and resources to make a priority what would it be?
Meditate. It's easy, doesn't cost anything, you can do it anywhere, at anytime and the benefits are immeasurable! Amazing life changes can happen with this one action.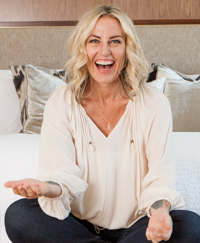 http://www.lanekennedy.com
http:/www.facebook.com/lanekennedylevy