Patty Hayes
Patty makes no claims about it being easy. In fact she isn't afraid to talk about the deep dark ugly realities of heart-ache, loss and recovery.
In her book "Wine, Sex and Suicide" Patty tells the story of her "near death divorce" and how she came out the other side. Her upcoming book "Soul Garden Healing" is a seasonal guide to reclaiming your heart and your light – coming back from the dark night of the soul and finding peace and joy when you feel you've been "abandoned by love."
Here's to our whole and happy hearts.  So grateful to welcome Patty to the Shift Series family.
In gratitude,
xo
Lindsay
Lindsay and Patty talk about Healing the Heart after Heartache, Loss or Divorce
Tell us a little about yourself

I'm a life coach with a specialized focus on working with people healing from heartbreak. I found life coaching while I was going through my own journey of healing and believe so strongly in its efficacy for self discovery and healthy balanced living. I'm an author with my first book, "Wine, Sex and Suicide – My Near Death Divorce," soon to be published and a forthcoming transformational book, "Soul Garden Healing – A Seasonal Guide To Healing From Heartbreak."
Tell us about your path to creating your business and your vision

Well, the path was really bumpy! But so far it's been exactly what needed to happen. More and more I feel in alignment with my soul purpose. It whispered to me when I was 11 years-old; to write a book that would help people. Of course I didn't know about life coaching until a few years ago, but I was always told I'd be a good therapist because I was a good listener and usually my friends came to me with problems or concerns.
I only started working with clients once I felt I had integrity in walking my talk and practicing all the principles to the best of my ability each day. On the way to developing my coaching practice, I'd started a different business entirely and had to shut it down because I ran out of money. Even that was all in perfect alignment because it was the bridge to build my confidence which had been shattered, and to work on myself and my own healing.
My vision is to let those suffering the dark night of their soul know they are not alone. I want to accomplish this through my books, both the creative non-fiction and the transformational book to come. I'll be establishing group coaching calls to give support and guidance for 8 week sessions. I envision bringing people on volunteer vacation projects like the one I did in Romania for Christmas one year. I want to keep learning everything I can about healing and personal growth tools, methods and practices so I can have a full breadth of knowledge to share with others.
Tell us a little about yourself and your philosophy on wellness:
In my own life there have been many cycles of times where I had achieved wellness. Where I was balanced, emotionally, physically, mentally and spiritually.
When those areas became out of balance is when I suffered the effects of being unaware, numbing and not staying true to myself.
Therefore, my philosophy on wellness is that it requires balance, awareness and intention.
What was the catalyst in your life to fuel your commitment to wellness?

The catalyst for me was being completely broken by my experience of having my husband leave. And prior to that there were a good two years, I believe when the cheating had started, that brought angry and cruel words, rejection of me as a person, dismissal of my feelings and eventually when caught, dismissal of me altogether.
I felt so sick from heartbreak, from over drinking to escape the pain, from self-loathing for bringing home strangers to validate me as a woman – I was a hollow shell of a former self. Never will I experience that again. Today, I believe I have a keen awareness of everything I allow into my environment, whether that's who I spend time with, what I listen to, where I live, what I put into my body. I practice setting healthy boundaries for myself and treat myself with love, kindness and compassion.
How do you stay healthy, resilient and vibrant?

I have practices in place such as starting my day with a mental gratitude list. I enjoy meditation and creating guided meditations. Yoga and walking in nature or taking an easy bicycle ride or kayaking in Morro Bay are activities I try to do a few times a week. I do my best to balance socializing because writing can be a very solitary endeavor, so I plan ahead and make sure I'm engaged with friends. Resiliency comes from knowing I've overcome challenges in the past and now have the tools and self awareness to deal with issues, and if I don't know how – I know where to ask for guidance. I also like to see things through the lens of my inner-child and incorporate a playful approach to life. Blowing bubbles, using crayons and swinging don't have age limits!
If there was only one thing a person could find the energy and resources to make a priority what would it be?

Working on their mindset to realize they are in charge of their lives. We can't control what happens to us but we absolutely have control of how we respond. Developing a positive mindset is free, and accessible to anyone at anytime.

What is your favorite inspirational quote for wellness / awesomeness / thrival?

Whatever the mind can conceive and believe, it can achieve – Napoleon Hill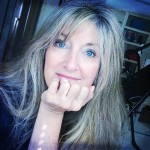 Patty Blue Hayes is a life coach with a special focus on helping women heal from heartbreak. She is the author of the book, "Wine, Sex and Suicide – My Near Death Divorce," and the forthcoming book, "Soul Garden Healing – A Seasonal Guide To Healing From Heartbreak." What season are you in?
http://www.neardeathdivorce.com/