Robin Green
What a pleasure to welcome my friend and fellow alternative healing & wellness warrior Robin Ray Green to the Shift Series.
Robin is a conscious mom, an acupuncturist, a speaker, educator, entrepreneur and is also the emerging expert on Pediatric Acupuncture.
Her website "KidsLoveAcupuncture.com" is so much more than a website for parents about acupuncture – it is a virtual treasure trove of ideas and inspiration for parents seeking alternative and inspiring wellness routes for their families.
I encourage you not just to visit her website, but to bookmark it, it's just that good.  She has a powerful free resource to help you identify the Five Element Type of your child or children and learn how to best support them all year long.
So much gratitude for Robin joining us here.  So excited to introduce you all to this bright light in the healing field.
In gratitude,
Lindsay
Lindsay and Robin are talking about pediatric acupuncture.
Tell us a little about yourself
I'm an acupuncturist and herbalist that specializes in pediatrics.  I'm a mother of two boys, happily married, working full time seeing patients, writing my book which will be published by HayHouse and training/mentoring acupuncturist in pediatrics. I live in Morgan Hill.  When my son came down with a case of chronic eczema and Western doctors were unable to help I learned how to use Chinese medicine to help children heal.  I healed my son and started treating children with chronic illness in my acupuncture practice.  I love food, cooking, hiking, biking, reading and playing with my boys.
Tell us about your path to creating your business and your vision
Initially, when my infant son was suffering from eczema it lit a fire within me to find a way to help him heal that supported his body and made him stronger. I spent years training in pediatrics so I can help heal him and realized that working with kids was my true calling.  What I went through with my son brought a lot of awareness that other babies and children were suffering and that Western medicine doesn't always have the answer.  Then last year, after my husband was laid off from his corporate job that he hated, we took a leap of faith and I decided to take my pediatric speciality to the next level and start mentoring and training other acupuncturists to work with kids.  I started working on my blog and have had over 1 million visitors and I recently won a book contract through the HayHouse writer's workshop.  If my husband hadn't been laid off, burnt out and miserable I would never have had the courage to jump into my passion and turn it into a full time business that supports my family.
Tell us a little about yourself and your philosophy on wellness:
I think staying well is about staying in tune with nature and in Chinese medicine I use a system of correspondences call the Five Elements that relates our the macrocosm or the Earth's ecosystem with the microcosm or our body's ecosystem.  By understanding our body and inherent constitution this way suddenly we can make sense of seemingly random symptoms or feelings.
What was the catalyst in your life to fuel your commitment to wellness?
I was pretty sick as a child and suffered many illnesses and broken bones.  As a teenager I began to restore my health through healthy eating, herbs and exercise.  In college after suffering from headaches for a year and finding little else but Advil helped I was desperate to find way to get rid of the headaches that was natural and that was when I discovered acupuncture.  In less than three months my headaches were gone.  The work I did with my acupuncturist went beyond just needles – we worked on mindset, managing stress, eating cleaner and the results were phenomenal.  I knew I had to practice acupuncture, too.
How do you stay healthy, resilient and vibrant?
Core routines – meditation, inspirational reading, gratitude and regular exercise like Pilates and walking.  Be flexible in my mindset if I get off my routines and letting go of guilt so I can easily get them back in when I'm ready to.
If there was only one thing a person could find the energy and resources to make a priority what would it be?
Meditate and walk.
www.Kidsloveacupuncture.com
www.kidsloveacupuncture.com/5E
www.robingreenacupuncture.com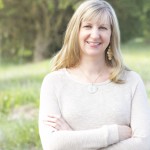 Robin Green is a licensed acupuncturist, herbalist and leading expert in the field of pediatric acupuncture. She has over ten years clinical experience using Chinese medicine to help families stay healthy. Her popular kids health blog (KidsLoveAcupuncture.com) reaches over 1 million readers annually. Robin founded the Center for Acupuncture Pediatrics which provides premier pediatric acupuncture training worldwide.