Shonte Taylor
Okay, so a not so known thing about me is that I studied brain and cognitive science in college and secretly LOVE the brain.  It's true. Sounds unsexy and boring, I know.  But trust me – you won't fall asleep in class for this one. Shonte Jovan Taylor is a brain scientist for a new world – she is new paradigm manifestation meets sharp as nails data and research and the work she is doing is unlike any other.  If I could put her in a room with all the lovelies who are doing their affirmations and intentions and power-of-postitive thinking themselves right into anxiety fear and doubt they would see exactly what they have been missing. This interview is a sneak peek in to that world – get to know your brain and literally unlock the potential of overcoming challenges, achieving your goals and activating your true potential.  You are going to love this Shift Chat.  I know that Shonte will be back for more…this stuff is just THAT important.
Shonte and Lindsay talk about Magic + Science = Your life Potentialized.
Q. Tell us a little about yourself
I am a Neuroscientist turned Potentialist Coach.  I help people to focus on their strengths to reach their highest potential starting with their greatest asset…their own brain.
I am also a mother of 3 (8, 10, & 19) and married for 10 years.
I have written a book called "Gen X: A Manual for the Generation of Masterminds and Lost Minds."
I am a radio host on the Law of Attraction Radio Network.   My show is called "Unlock Your Potential."
I am launching an online monthly coaching program called Self-Help Academy starting May 1st.
Q. Tell us about your path to creating your business and your vision
As a neuropsych graduate student, I spent 8-12 hours a day assessing people mental deficits.  It was draining to my spirit.  I was able to listen to my higher self tell me to use the knowledge of the brain to empower people.  So I took a different path and became a personal development coach.
I now empower people with the knowledge of their brain and mind so that they can manage their emotions, enhance their creativity levels, and make better decisions to reach their highest potential.
Q. Tell us a little about yourself and your philosophy on wellness:
If you take care your body and brain,  your body and brain will take care of you.
Q. What was the catalyst in your life to fuel your commitment to wellness?
About 5 years I crashed into a pole in an empty parking lot only to be awakened by the cries of my 3 and 5 year old.  I was so mentally stressed and overwhelmed as a mom, wife, grad student, and full time employee.  My brain shut off literally.  It was my wake up call.
I started to use my knowledge of neuroscience to manage my own brain because everything starts in the mind and brain.  Our thoughts and mental levels drive our decisions, behaviors and reactions to life so the brain and body must be understood and taken care of.
Q. How do you stay healthy, resilient and vibrant?
I have designed my own brain by creating new mental maps and habits.  This allows me to be more aware, make better decisions that are healthy, productive and mindful both unconsciously and consciously.  Most of our behaviors are driven by unconscious thought/programs which we need to reprogram for optimal brain efficiency.
Q. If there was only one thing a person could find the energy and resources to make a priority what would it be?
Understand how their own brain works and start using strategies to re-design according to the lifestyle you need.
Q. What is your favorite inspirational quote for wellness / awesomeness / thrival?
"A mind that is stretched by new experience and knowledge can never go back to its old dimensions"
Change Your Brain. Change Your Life. Change the World.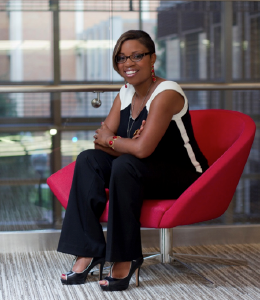 Shonté Jovan Taylor, is an Author, Speaker, Radio Host, Potentialist Coach, Neuroscientist, and Founder of the Self-Help Academy. Shonté learned to manage her mind and life as she went from being a teenage mother and single parent to a happily married and successful career woman.  She has earned degrees and training in Neuroscience, Biology, Clinical Neuropsychology and Organizational Psychology. With 15 years of brain research, she empowers people with the knowledge of their brain and mind to optimize their leadership potential, professional goals, and personal development. She has contracted with major industries within the governmental, pharmaceutical, educational, and healthcare realms.
Connect with her and receive free tips and strategies to optimize your brain, mind, and potential at www.ShonteJTaylor.com.
Follow her on twitter @Mind_Potential.
Like her on Facebook
Watch her on YouTube
Listen to her on Law of Attraction Network Radio
Link up with her on LinkedIn
Buy her book on Amazon