Teresa has found physical healing, peace and much insight after overcoming many struggles and obstacles in her life.  As a result, she has founded her own business and continued to live her life aligned with her core values while being mindful of her truth and desires. She now has a great desire is to help others find their true self, create a life they absolutely adore with techniques that will help her clients look within, and embrace the directions they are guided towards.
Lindsay and Teresa talk about Intuitive Wellness from the Inside Out.
Tell us about yourself
I am a mom of two boys and married to my very supportive husband. I live in a small town in Ontario. I love animals, nature, meditation, aromatherapy, mantra music, theatre, singing and acting. I love feeling connected and peaceful. I love creating and aligning my work with my passion of serving others. I am a certified aromatherapist and reflexologist and owned my very own "holistic treatment spa" for 14 years ~ Angel Scent Aromatherapy (completely gave that work up when I got the lyme). I am also an Angel intuitive. I have now combined my love for serving others, love for self care as well as my intuitive gifts and entrepreneur experience and creating my very own coaching practice and now work as a "Life and Business Alignment Coach".
What is your philosophy on healing and overcoming health challenges?
This looks so different for everyone. For me I found the most peace and improvement when I stopped resisting and let go of the "when" and the timeline of healing (i.e I will be better by… or I will start exercising WHEN I feel better). I embraced the lyme and found the light in it. Mindset, soulful and deep self care, honouring when I needed rest and a healing team that was intuitively chosen and divinely orchestrated. Showing up for yourself and nurturing and nourishing my energy. Surrounding myself with people who were vibrant and had the same views of healing. Taking charge of my own life, acknowledging the lyme and treating in but not letting it run my life. After much struggle, I found that a combination of Western and Natural medicine was best for me – with that said I let my intuition guide me, even with convenetional meds and had a doc who supported me and honoured my intuition
How have you used adversity…
I have allowed the experience to teach me how to care for myself, serve others and bring forth my gift of intuition. I have created a beautiful and authentic self care practice because the lyme taught that I am first – nourishing my energy is number one and when I am nourished my relationships are better and life is brighter.
Lyme has taught me to eat well and maintain healthy eating habits. Lyme has taught me to stay in ALIGNMENT.
How do you stay healthy..
– eat well
– rest
– naturopath
-energy work
-herbs, vitamins
– nourishing exercise
-aromatherapy
-gratitude
-self care
-meditation
-cleanses
-detox
-whatever I feel guided to I honour
What tips do you recommend
-Be gentle on yourself
-do not compare yourself to others – everyone has a different path – what works for someone else may not work for you, what works for you may not work for someone else
-trust your intuition
-surround yourself with people who you feel aligned with and share your vision of healing
-begin a self care practice and simply show up for yourself even if it is for 3 minutes a day – show the Universe that YOU LOVE YOURSELF.
If there was only one thing…
I would have to say in addition to some type of treatment it would be a soulful self care practice – perhaps even the simple practice of authentic gratitude
Favourite quote
The one that helped me is super simple "I am Safe"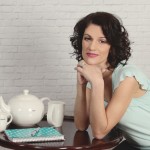 Teresa is super passionate about helping heart centered women and entrepreneurs create a life and business filled with authenticity, truth and intuition as well as create a foundation of mindfulness and soulful self-care that supports their dreams and visions.
Through her gift of intuition and a little help from the Angels Teresa with the clarity that you need to create more alignment, shift your mindset and embrace your unique gifts.
"My journey has led me down a path of deep self-discovery."